Cafe society: When luxury retail and dining meet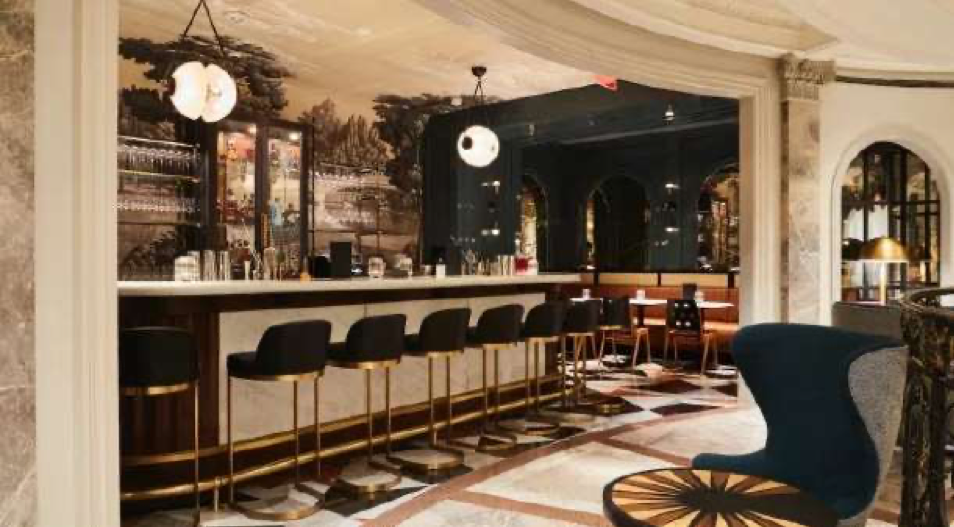 I remember once watching a US made-for-TV movie a long time ago, featuring a fashion boutique in Beverly Hills, that also housed a beauty salon and a restaurant within its glamorous walls. At that time, I thought this was a fabulous idea, one that I aspired to own (and actually still do!).
Imagine somewhere you could eat, shop and be made beautiful all at the same time…or at least consecutively and not necessarily in that order. It was a 'destination'.
Of course, this is common in department stores around the world and actually, very smart. There is nothing like a glass (or two) of bubbly and some sustenance to whet the shopping appetite. Some are better than others and truly encapsulate the essence of the brand. A good example is one of my total favourites at Bergdorf Goodman in New York City. BG gets it. It has panache, elegance and a buzz that is immediately enveloping. It manages to create an extremely comfortable and sophisticated environment, without being too 'stuffy'. Understated chic, just as the store itself. And it is a destination in itself, whether one is shopping or not.
Another excellent example of this, although it's sadly disappeared, was Joyce in Hong Kong, owned by the doyenne of elegance, Joyce Ma. The Joyce concept was a fashionista's dream, also housing a florist and a restaurant – all perfectly blending so seamlessly together.
Nowadays, many luxury brands are doing similar. Opening cafes and restaurants under their brand names. Tiffany is one of the more recent, which also opened in Hong Kong not too long ago. Armani has been doing it for years.
This does make perfect sense, considering the consumer is increasingly searching for in-store experiences. Lifestyle and luxury brands are in a perfect position to capitalise on this and leverage their equity. It can also be a vehicle through which to gather a wider demographic, often younger, into the brand. Some do this better than others and some have succeeded whereas others have not. After all, in opening a café, a coffee is a coffee after all. Therefore, there has to be some differential, some je ne sais quoi that tells one apart from the other. Don't just open one because it seems to be the thing to do. The 'brand stretch' has to make sense, especially in a market that is becoming more cluttered.
And most importantly, any such food and beverage establishment needs to be 'on brand'. This is fundamental. It is also challenging when so many of these establishments are licensed or franchised and consequently where actual 'brand' control can be limited. This can also be potentially damaging to the brand, so much consideration needs to be taken into account. Attention to detail is everything.
This goes way beyond the product on offer and translates through to the ambience, service and even the 'look' of the staff. However superficial this may sound, an English research showed that 70 per cent of the first impression comes in the first 10 seconds. This may sound judgmental, but we are all guilty of this. We just do not want to admit it.
How often have you been into a fashion boutique to be served by someone who clearly needs advice themselves, let alone inspire you? To be honest, it should be part of their job.
Having a branded café or restaurant is no different and all the staff need to be totally 'on-brand', all the way down to their look and attitude. To me, Ralph Lauren with Ralph's Cafe has done this very well. Everything has been considered, down to the last detail. The staff look like they have seriously just been hand picked out of one of his runway collections. They are brand ambassadors.
It also has to do with the market. I remember many years ago when Dolce & Gabbana opened a bar in their flagship on The Bund in Shanghai. I'm sorry to say, but it lacked the character or personality of the brand and was basically just a nondescript bar. The Chinese consumer, at that time, also did not necessarily frequent that type of 'branded' bar pre or post shopping, preferring a coffee or such like. Consequently, it failed.
Therefore, brands need to research, not only their competition, but also the dynamics of the market itself. And by competition, I mean not only those of other luxury brands, but of all cafes and restaurants.
Essentially, the growth of lifestyle and that of a holistic approach, can create many other opportunities for brands to further develop their offering, which, of course, needs to be in line with their product focus and specialisation.
Lululemon, as an example, have created their own community greatly inspired by yoga. In fact, going back to my point on staffing, many Lululemon staff are also dedicated yogi's. This is not only on-brand but instills a confidence in the consumer who seeks advice from the sales associate. Lululemon's introduction of a health bar makes perfect sense and it's in line with the brand's positioning.
The consumer is constantly seeking new experiences, whether it be a new restaurant outlet or bar. Yes, you can put your brand name up there, but you need to deliver and honour the brand's DNA. You also need to be consistent, relevant and as unique as possible. Tell a story even. Make it compelling. Stand out from the crowd.